This shop has been compensated by Collective Bias, Inc. and its advertiser. All opinions are mine alone. #GetJohnsonsBaby #ChooseGentle #CollectiveBias
OHHHHHH bath time!  Bath time with my little Rhetty Roo is one of my favorite things for us to do together.  We sing, we laugh, we play, and we get allllll squeeeaky clean!    I never knew doing something so ordinary would turn into teeny magical moments between me and my little guy.
I'll never forget the first time I had to give him a bath by himself.  I was SO nervous.  How do I hold him?  How much water do I put in?  What items do I need?  What temperature should the water be?  Are these products safe?  As time as gone on, Rhett and I have fallen in quite the bath time routine…and I've luckily figured out most of those answers.
Every time little babe takes a bath I get out two washcloths, two towels, & his JOHNSON'S® Head to Toe Baby Wash, JOHNSON'S® Baby Gold Shampoo, and JOHNSON'S®s Baby Pink Lotion.  I also add in some soft music that plays on my  phone, and we are ready to rollllll!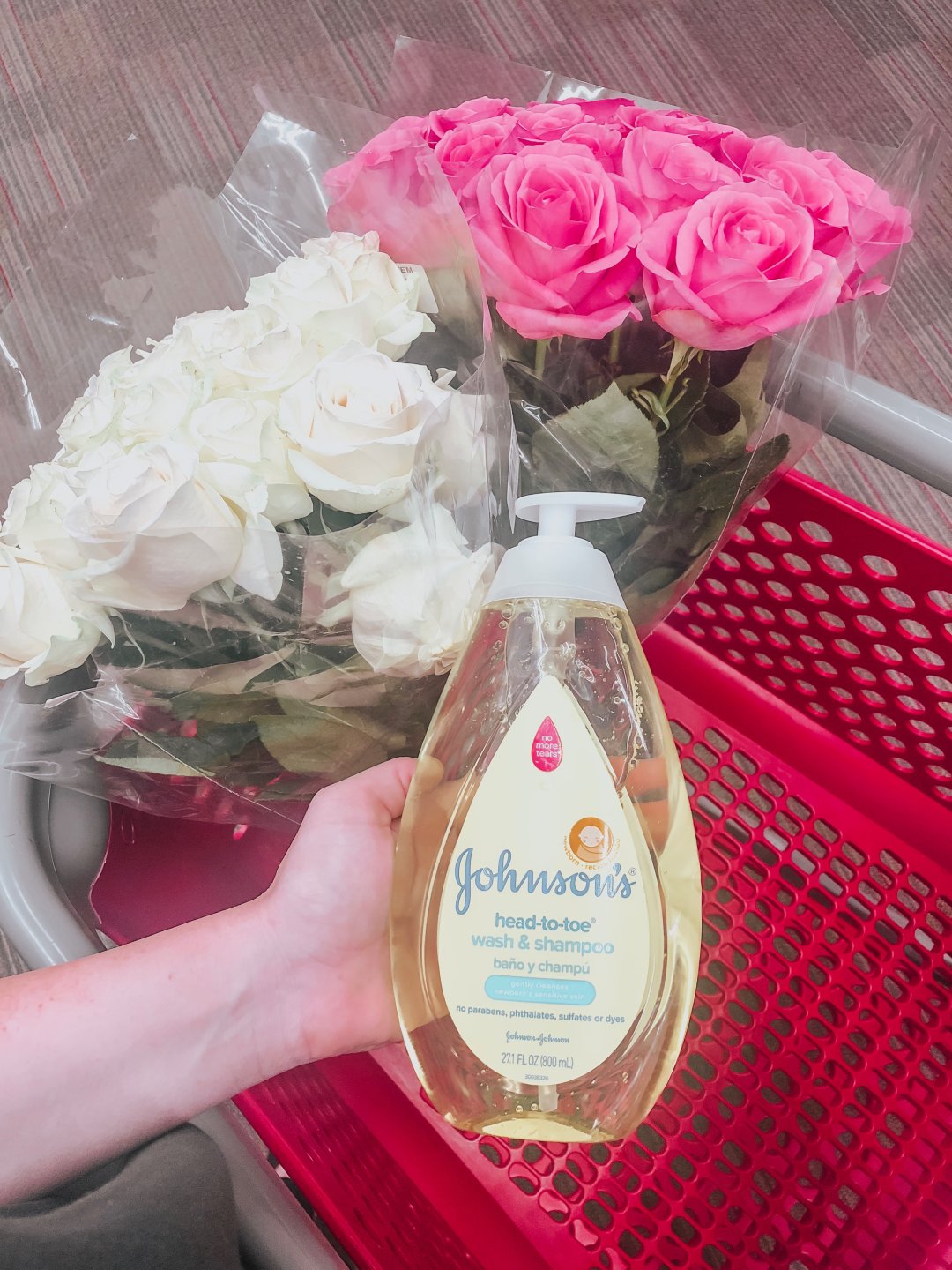 Ready to get your little babe squeaky clean safely? Hover over this image to shop JOHNSON'S®  products!
It never fails that Rhett's first touch in the water is met by huge eyes and a look like, "MOM, WHAT IS GOING ON?!" Haha.  We always have to do a little soft song and sprinkle some warm water on his head, theeeeen he finally begins to calm down.
From there, I sprinkle water all over so that he knows its bath time. We sing songs and after a bit of playing in the water, we start scrub a dub dubbin.  When I first became a mom, I was so overwhelmed by the amount of products out there for babies.  After a lot of research on what I wanted to use on my little babe, I decided we would useJOHNSON'S®  products.  You guys know my journey of wanting the products Rhett and I use to be without parabens,  sulfates, and dyes, as well as hypoallergenic.  And, YES, the bath products from JOHNSON'S®  are exactly that.  JOHNSON'S®  recently improved their products inside and out by creating products with 50% fewer ingredients, creamier washes, and easier to use pumps.   We new momma's have been asking for reformulated products that are gentle for our little babies and JOHNSON'S®  has answered.   I finally feel completely at ease that my baby is in good care with JOHNSON'S®  formulations.
I love to use JOHNSON'S® Head to Toe Baby Wash as Rhett's body wash and then follow up with JOHNSON'S® Baby Gold Shampoo for his hair.  They are so creamy and smell AMAZING!  I feel kind of crazy about the amount of times I smell Rhett after his bath.  Like, is that weird?  Haha!  After we finish washing and rinsing, I always end bath time the same way we started… singing songs and splish splashing water.  After we've ended our play time, I wrap him up quickly in a towel and we head STRAIGHT for a diaper.  (I've learned the hard way.)  I'm that mom that also has a warm towel waiting for him (yeah, yeah I know…) and after his diaper change, I wrap him up in the warm towel and we head for baby massage time!
Rhett LOVES massages, just like his mama.  We take JOHNSON'S®  Baby Pink Lotion and I massage his little legs and arms, all the while he's cooing and smiling. It's the sweetest thing in the whole wide world.

Bath time is one of our favorite times of the day.  There are always lots of smiles, lots of singing, and a mama that feels good about the products she uses on her baby.
If you're interested in grabbing the JOHNSON'S®  products, head over to your local Target.
All of these products are in the baby bath aisle.  Then you can go and grab all the other Target items you didn't know you needed, haha.  I love going to Target for bath time needs because there are so many other items I can easily pick up too for baby.
Oh and heyyyyyy, if you just so happen to be there on August 26, Target is having an in store sampling of JOHNSON'S®  Cotton Touch and JOHNSON'S® Bedtime Lotions.  There will also be a coupon available there for you.  Also, from August 12th to September 1st, if you buy three JOHNSON'S® products, you get a $5 gift card that is instantly redeemable in store or on Target.com (The offers are underneath the products online).

Enjoy bath time with your little one, and feel at ease knowing you're in good hands with JOHNSON'S® .  (One less worry for this mama.)
Until next time pretty mommas,
Katelyn